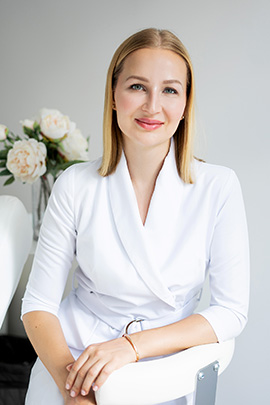 Dr. Elizaveta Buydenok graduated from I.M. Sechenov First Moscow State Medical University, the oldest leading medical university in Russia. Following that Elizaveta undertook a 2 year graduate residency in dermatology and venereology and a course in cosmetic dermatology and aesthetic medicine, completing the course at the top of her class.
To further her credentials as a Cosmetic Dermatologist, Dr. Buydenok became a fully certified practitioner and coach in Fraxel® lasers, Thermage and Iovera. She is a fellow of the Moscow Society of Dermatologists and Cosmetologists and throughout her career has regularly taken part in and presented at national and international meetings, including seminars of world famous Dr Richard E. Fitzpatrick. She has published a number of articles on a variety of dermatology subjects.
Dr. Buydenok continues to participate in regular international and national workshops to enable her to apply the most advanced techniques currently available in cosmetic dermatology and anti-aging medicine. Her native language is Russian and she is fluent in English.
Dr. Buydenok offers bespoke solutions to the full spectrum of dermatological and cosmetic issues, with a key focus on:
wrinkle relaxation
facial contouring & volumisation (nose, cheekbones, chin)
lip enhancement
nonsurgical blepharoplasty (eyelid lift)
skin tightening and rejuvenation for face, neck, décolletage & hands
melasma and other pigmentation
acne
rosacea
hyperhidrosis (excessive sweating)
removal of benign skin lesions e.g. skin tags
TREATMENTS AND PROCEDURES:
all types of injections, including:

mesotherapy
fillers for lines and wrinkles
Radiesse® (Radiance)
PRP-therapy
LAENNEC human placenta extract

Botox®, Dysport®, Xeomin®
professional derma peels
thread lift (non-surgical facelift) treatment
laser treatments
laser hair removal